THE BEST HIKING BACKPACK FOR THE TRAILS
Ready to hit the trails but not sure what hiking backpack you should be using? You're not alone. There are so many to choose from that it can become a bit overwhelming. Don't worry, I've got you. Whether it's a day pack or a thru hiking pack you need, here are some things you should try to bear in mind.
Note: I won't be recommending which actual pack to buy in this post, more explaining what things to look for when in the market. Think things that go beyond the brand and lovely colours that might be on offer but can distract you from what works best for your body. The right pack will ensure your hike is comfortable, safe and well supplied!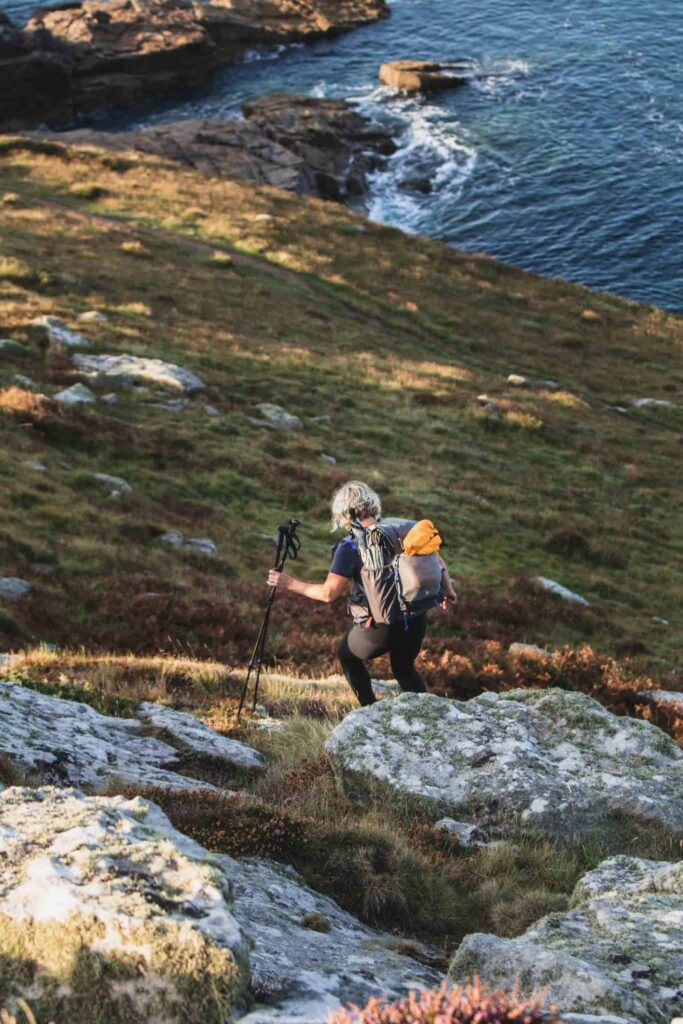 I choose gear based on my purpose rather than what it looks like (although a nice looking pack is lovely too!). What do I want it for? What are my habits and preferences, and how do I marry these things up with the form and function of a pack? Just in case you wanted to know, I have been using a Gossamer Gear Mariposa 60 for the last 2-3 years. I used it on my Appalachian Trail Sobo thru hike, and my South West Coast Path hike thru. I am about to switch and try the amazing Atom Mo, as I love the company and their ethos. Their packs are awesome, and they are based here in the UK so I wanted to support local cottage industry as well as US! I'll let you know more about that pack when I start using it.
HOW YOUR HIKING BACKPACK FITS AND SITS
The Fit
Your height doesn't matter, but the length of your torso DOES. Measure it for the best pack fit and don't guess with your eye! Take the measurement between the bony lump at the base of your neck (C7) and then put your hands on your hip bones and point your thumbs toward your spine. Measure down to where your thumbs would meet. Voila! Pack size for your hiking backpack.
Hip Belt
Make sure it fits, is comfy and you can pull it tighter as you may well lose weight. The hip belt is a pack's most important load-bearing feature. Your hips are where you want your pack weight to sit (NOT pulling off your shoulders). Also, if you have slightly bony hips then get a cushy hip belt or you're cruising for sore spots.
Frame
Internal frame or frameless? Most packs these days have internal frames with clever load-supporting tech to make sure you carry weight on your hips. My Gossamer Gear pack has a very light, removable internal frame and load lifters (tabs on the back of the shoulders to pull the weight closer to the body). Ultralight hikers sometimes use a frameless pack for weight saving. I defo don't.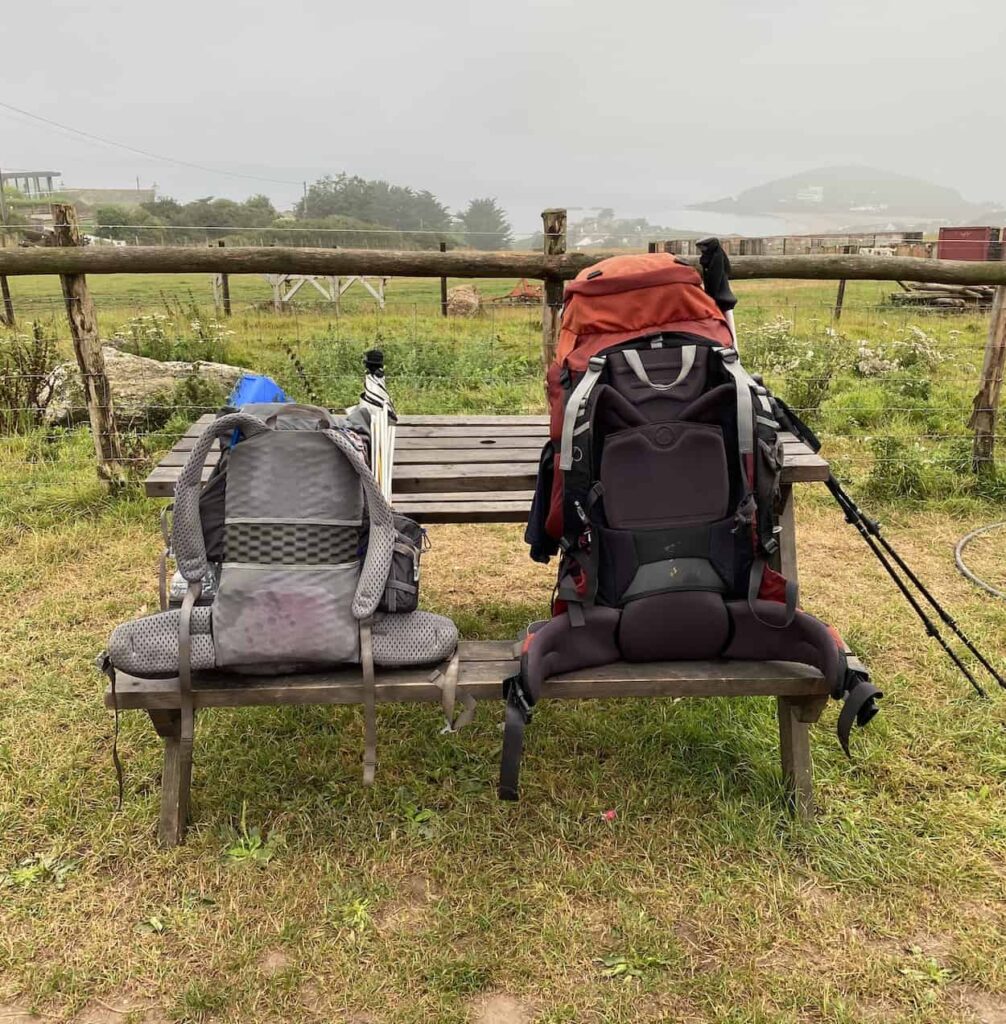 WHAT ARE YOU GOING TO PUT IN IT?
Capacity/Litres
Capacity/litres means the VOLUME the pack can hold. Try to resist going all out and getting a huge hiking backpack just because you can afford it, or because it's a cool brand in the sale. You may end up regretting the capacity. It's human nature to try and fill any space you have, so don't go bigger than you really need or you'll be carrying around stuff that you'll never use 'just in case'. I am such a habitual 'just in case' packer so have to try to keep my pack volume down or I'll stuff too much in! I went for 60L for a 6 month thru, but should/could probably go a little smaller now. Ultralight hikers often go 50L or less.
Note: If you do decide to go for a bigger pack than you might usually need for some reason, check it has compression straps so that you can reduce the volume when you're not using it at full capacity.
KEY FEATURES OF YOUR HIKING BACKPACK
Let's look beyond capacity, fit and frame to look at the FEATURES of a pack. Once you've decided that it fits your torso, the belt can cinch and rest weight on your hips, and the pack is the right size for your needs, then you can then look at all the other things that make a pack great. Here are some of the things you might consider to keep your hiking comfortable and fun:
Suspension & Ventilation
The suspension system on a pack means how it sits against your back. Does it hold the pack slightly away from your skin for air flow, allowing sweat to dry? Or does it sit with padded cushioning against your skin, keeping your heavy load feeling kinder? Both are readily available – you just need to decide what you need for your body.
Pockets
I LOVE a pack with pockets. My Gossamer Gear has a heap of them, most being external so that I can find stuff I need easily without digging deep. I have one long side pocket for tent and poles. Then, there's two other smaller pockets on the other side that I use for water bottles, my filter and snacks. A large stretchy mesh pocket on the front is perfect for putting my freshly washed under-crackers and socks in to dry as I hike, and my hip-belt pockets are perfectly placed for easy stashing of snacks, plasters and lip balm. Check how many things you want readily available to you, and make sure you have the pack pockets to house them.

Top tip: always test reaching round for water bottles from the side pockets before you buy – you don't want to take your pack off every time you need a drink!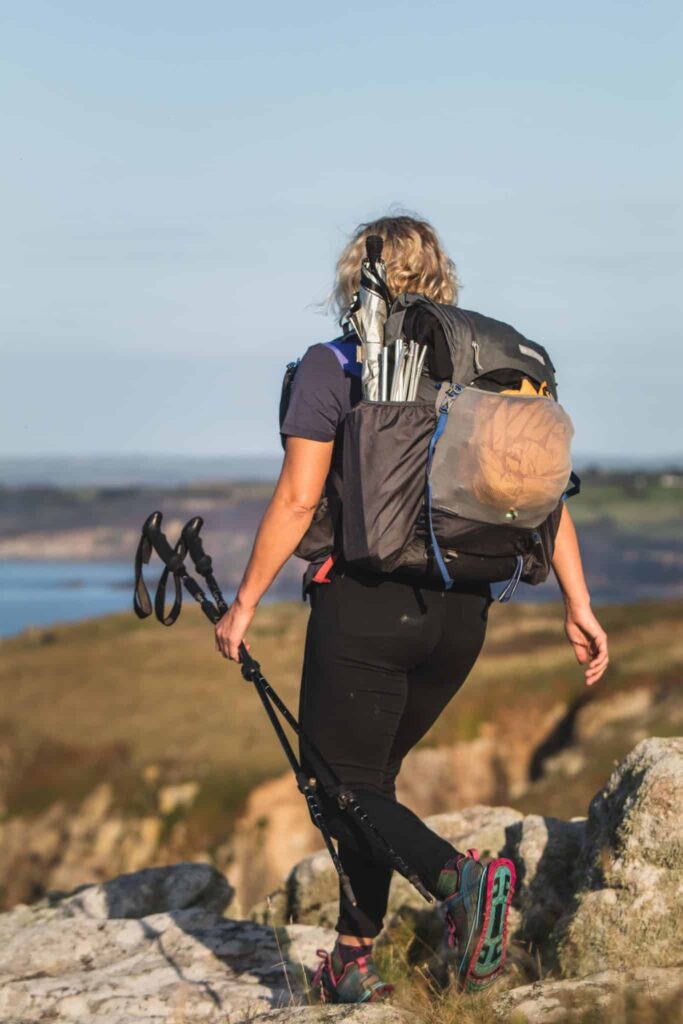 OTHER FEATURES TO CONSIDER
Water Reservoirs
You might be happy with pockets for your water bottles. I am! But some packs come with a space for a water bladder and holes to thread a water hose up by your jaw for quick drinking. Quick and easy drinking, but more fiddly to arrange. You do you!
Hiking Pole Attachment
It's good to have somewhere to secure your poles on your pack when they're telescoped and you don't need them. Check if your pack can do this.
Straps
You'll have chest straps and shoulder straps to keep the pack on your body, as well as your hip belt. Make sure your shoulder straps have enough padding in the right places for your body. Check also that there are no abrasive edges or fabrics touching your skin. You'll notice these if you end up hiking in a tank top! Small niggles and irritations from repeated rubbing can turn into big sore spots and potential infections over time.
Now it's time to pick your pack and hit those trials!
Published:
07 September 2021
Gail Muller was told she'd be wheelchair bound by the age of forty. At forty-one, she embarked on one of the world's toughest treks – The Appalachian Trail.
Ebook

Audiobook

Paperback