10 reasons why my dad is BRILLIANT
Zeena Moolla's thank you to her single-parent dad.
There are dads, and then there is my dad. We're not talking some run-of-the-mill, bad-dancing dad here, cracking predictable jokes, unable to drink tea from anything other than his special mug (although, all those things are true). He's truly unique. He's so funny, both intentionally and inadvertently, he makes Will Ferrell look a little melancholy. He's so generous, he makes Bill Gates look a bit tight-fisted. He's so big-hearted, he makes Florence Nightingale look a right cow. You get the gist.
There are billions of reasons why my dad is brilliant. Below, are just ten of them…
* Once, when he'd not long moved to the UK from South Africa, someone (clearly having watched too many dodgy old cartoons of African people with bones through their noses), asked him if it was true that they cooked and ate people in his home continent. He laughed and smiled. And then said 'yes'.
* He likes to tell you A LOT how he had a Batchelor's Cup a Soup and a homemade banana sandwich (sometimes cheese), every day for his lunch at work to save money. He will particularly regale you with this when he sees you clutching a takeaway lunch from somewhere pricey like Pret a Manger, or, y'know, Greggs. He'll ask you, A LOT, if you've won the lottery.
* He has an old M&S 'St Michael's' carrier bag he's been reusing since I was a kid. If you borrow it, you'd better give him a clear eta of its return. If you're a day late with its return, you should expect a phone call imminently.
* For years after his retirement, he worked as a TV extra and as it was filmed locally, appeared a fair bit in Casualty. After finishing filming one evening, he forgot to take off the fake bloody bandages wrapped around his head, and subsequently scared the life out of the poor cashier in the petrol station he'd stopped at on his way home. He apologised profusely, feeling terrible for startling her – and then promptly drove home, forgotten bandages intact, and freaked out my brother in exactly the same way.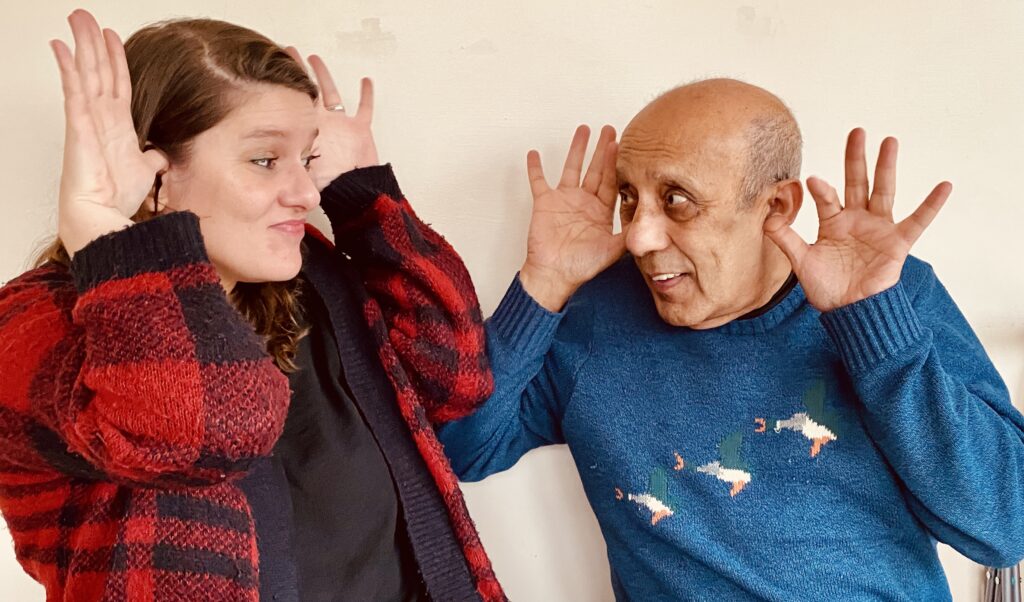 * While he generally likes to laugh heartily at his own jokes, he can be the deadpan king when it suits him. A bloke once asked him where he was from and he replied nonchalantly, "Bristol." "No, but where are you from originally?" inquired the bloke. "Oh, I see," said my pop in his distinctive Indian-South African accent. "London."
* He makes the best prawn curry ever. Every time I came home from university, its amazing smell would greet me as I'd walk through the door and I'd feel instantly happy. Other smells of my childhood – the knock-off Poison perfume I'd buy from a shop near the bus station, and Marlboro fags (nicked from my sis, but not actually inhaled) – do not compete.
* If you go to his house and make two slices of toast, do not use a side plate. You need a big plate. Don't argue. Just use a big plate. And don't ask him why he needs to keep several thousand empty, plastic takeaway containers stacked in the corner of his kitchen. Aside from the fact I can't remember when he actually last had a takeaway, they just seem to sit there collecting sticky dust. But ours is not to reason why. So just blank the takeaway containers. And use the big plate.
* He has a clever, hungry brain, writing many letters to The Independent, and calling into Radio 4's Any Questions? more times than he's had Cup a Soup. He also appeared on Question Time once, when David Dimbleby, seeing my dad in the studio audience with his hand up, pointed at him and said: "Yes, a question from the gentleman there with the moustache." My dad looked around a bit confused. There was a long pause and when David Dimbleby pressed him for his question, he leant into the boom and said quietly: "I haven't got a moustache." Still, to this day, almost 15 years on, I cannot retell this slightly surreal story without laughing until I almost pee.
* All five of his grandkids adore him. He keeps them in a steady supply of Smiley Faces, white chocolate mice and the same bad jokes we had to endure while growing up. His love for them is massive and, despite being almost 80, he'll happily run around the garden pushing my bossy two-year-old daughter in her toy car as she, in his words, sits like a maharani with him, her rickshaw wallah.
* He brought up my sister, brother and myself, as a single parent since I was eight. He cooked, cleaned, shopped, ironed, taxied – among countless other things – throughout my childhood and beyond. He's generous, warm, really funny, very bright and most of all, unbelievably kind. If I'm half the parent he has been, I'll be chuffed.
Pop, you are lush.
Published:
24 February 2021
When you're in the eye of the motherhood shitstorm, wondering how this tiny human can wreak so much bedlam in your life, you need a robust sense of humour to save your sanity.
Ebook

Audiobook

Paperback