EASY SOUP RECIPE FOR THANKSGIVING
When it comes to Thanksgiving, the appetiser is, arguably, the star of the show. And there's nothing better than creating something completely from scratch to make your guests go crazy. To celebrate Thanksgiving this year, the Thread team are excited to share an extract from Eat to Heal by Debbi Nathan and Helen Nathan. This easy butternut squash, pear and leek soup recipe is the perfect addition to your Thanksgiving dinner!
The science behind it
The list of butternut squash's health benefits is long. It contains vitamins C and A, potassium, magnesium and many anti-inflammatory carotenoids. Even after cooking, it retains its vitamin C. When taking responsibility of your health, using the right ingredients is a key component. And knowing exactly what is going into your body is so important. Using ingredients that are known to have a positive impact on your body can not only help you live longer, but it's a sure way to have your guests rave about your cooking. This easy butternut squash soup recipe that's perfect for Thanksgiving will definitely be the talk of the town!
Happy Thanksgiving!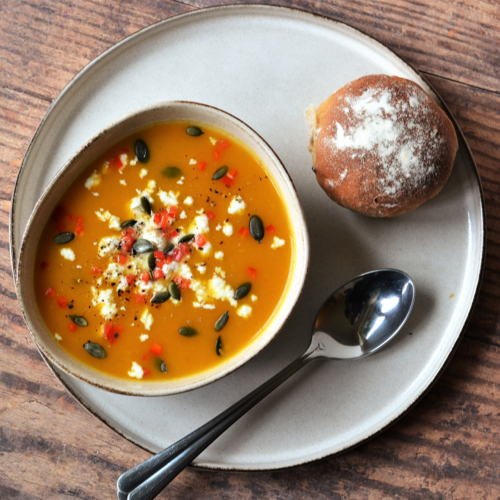 Ingredients (serves 4)
2 tbsp butter
1 large leek, trimmed and sliced
750g butternut squash, peeled and chopped into 1cm cubes
2 ripe pears, cored and chopped
1l chicken stock (use an organic stock cube if possible)
Salt and freshly ground pepper
To serve (optional)
1 small red chilli, deseeded and finely chopped
Feta, crumbled
Pumpkin seeds
Directions
Melt the butter in a large, lidded saucepan until foaming. Add the leek, butternut squash and pears and cook with the lid on for about 10 minutes on a low heat, until everything is buttery and soft.
Add the stock, bring to the boil and simmer for a further 20 minutes with the lid off.
When the butternut squash has softened, liquidize the soup and season with salt and pepper, to taste.
Top with the chilli, crumbled feta or pumpkin seeds (if using).
Debbi Nathan and Helen Nathan demystify the biological functions within our bodies and explain how they depend on our genes.
Ebook

Audiobook

Paperback