DETOX BLACK BEAN CHILLI RECIPE
Taken from Eat to Heal, this black bean chilli recipe is the perfect meal for a complete body detox. Not only will it help you take control of your health, but you will be able to do so without making your tastebuds pay the price.
Taking your time to explore the recipe and even add your own twists to it will help you understand more about the way your body functions. Similarly, you will soon find that eating the right, clean foods can come with a plethora of benefits. From reducing illness to slow cell degeneration to even supporting chronic conditions.
Undeniably, this black bean chilli recipe can help you feel great by eating well. So this recipe will be beneficial for your health while quickly become a household staple!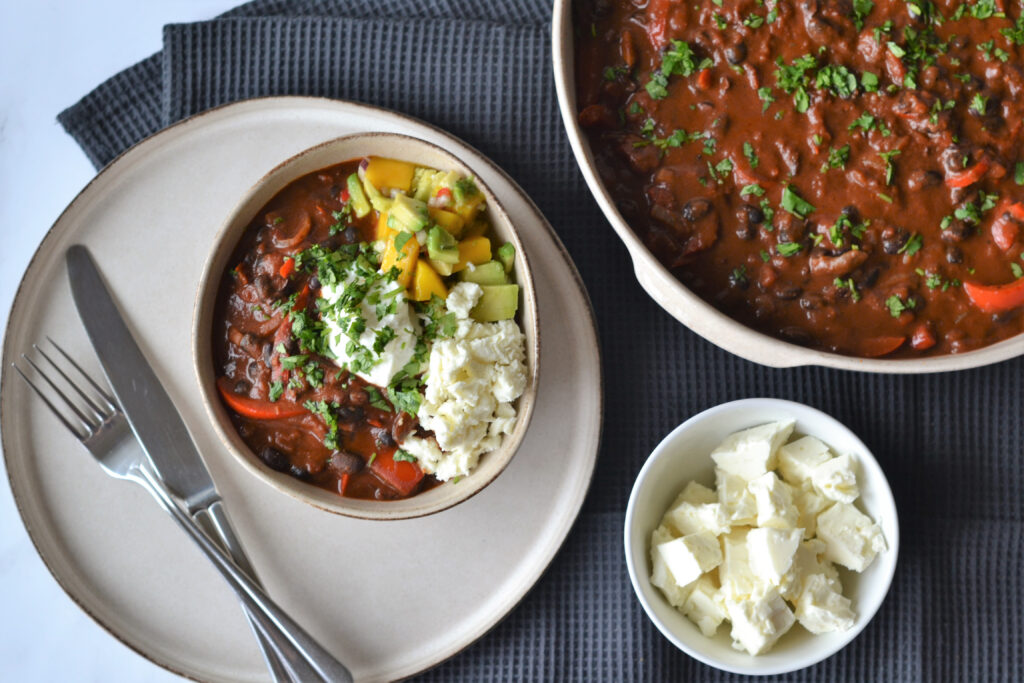 Ingredients (serves 4)
2 tbsp olive oil
1 onion, peeled and sliced
2 red peppers/red bell peppers, finely sliced
4 field mushrooms, thickly sliced
2 garlic cloves, peeled and finely sliced
1 tbsp mild chilli powder
1 tsp chipotle paste
1 tbsp maple syrup
1 tbsp ground cumin
1 tbsp ground coriander/cilantro
2 x 400 g/14 oz tins black beans, drained
2 x 400 g/14 oz boxes or bottles chopped tomatoes
150 ml/5 fl oz/½ cup + 2 tbsp vegetable stock
15 g/½ oz 85% dark chocolate
Salt and freshly ground black pepper
To serve (optional)
150 ml/5 fl oz/½ cup + 2 tbsp sour cream or Greek yogurt
150 g/5½ oz feta
Coriander/cilantro leaves, finely chopped
Lime wedges
Directions
Firstly, heat the olive oil in a large pan and cook the onion and peppers for about 10 minutes. As soon as the vegetables have softened, throw in the mushrooms and garlic. Then, cook for a further few minutes.
Mix in the chilli powder and chipotle paste, maple syrup, cumin and coriander and stir to coat everything thoroughly. When everything is coated, add the beans and chopped tomatoes. Then pour in 100 ml/3½ fl oz/7 tbsp of the stock and bring to a simmering boil. At this point, pop in the chocolate and stir until it melts. Season and simmer for 30 minutes. If the liquid reduces too much then pour in a little more stock.
Lastly, adjust the seasoning and serve with sour cream or yogurt, feta, coriander, lime and spicy mango guacamole.
Debbi Nathan and Helen Nathan demystify the biological functions within our bodies and explain how they depend on our genes.
Ebook

Audiobook

Paperback